Mon, 4 June 2012
Liquidmatrix Security Digest Podcast - Episode 1
Previously on the Liquidmatrix Security Digest Podcast... There was some talk, it was kinda nice. People said "do it again!" and now you're caught up. Welcome back to the Liquidmatrix Security Digest Podcast. The continuing saga of 4 infosec nerds who will attempt to do what has never been done before... bring you a high quality information security related podcast that is not just a long series of injokes, ranting, personality disorders and hard drive snake oil. DISCLAIMER: It's not that explicit, but you may want to use headphones if you're at work. In this episode:
Iran has a CERT? yes, it's called irCert - that is all
keylogger in simurgh (an Iranian proxy that has an icon that looks onionish) - found by some good old Toronto boys at UofT (Munk Citizen Lab)
Commentary
You're only allowed to use APT if you use it properly
Flame! (remember my name!, I'm going to live forever... oh wait... wrong song) ← but first an intro on Stuxnet/Duqu/Stars
Flame - p0wning middle eastern regimes since a while back
Mailbag
Creative Commons license: BY-NC-SA Oh, and just because it's awesome... thanks to Bill Pennington!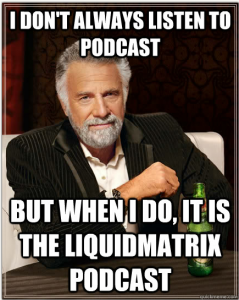 ---
Tue, 29 May 2012
Liquidmatrix Security Digest Podcast Episode 0
You knew it was going to happen sooner or later... Welcome to the first Liquidmatrix Security Digest Podcast. In this series, we will attempt to do what has never been done before... bring you a high quality information security related podcast that is not just a long series of injokes, ranting, personality disorders and hard drive snake oil. DISCLAIMER: It's not that explicit, but you may want to use headphones if you're at work. In this episode:
Creative Commons license: BY-NC-SA
---